This post will recommend some online marketing courses that will help walk you through the digital marketing landscape. Happy learning!
If you are a beginner to digital marketing and need some certification to land you a job or you want to improve your working skills, or you are eager to know more about business, marketing,  communication, advertising, and creative ads, then the article can meet your needs.
However, you still need to devote more time to dive into digital marketing and put what you learn into practice.
We will cover these topics in the article:
Introduction to Marketing (Business Foundation)
Advertising
Digital Marketing Strategy
Search Engine Optimization (SEO)
Hubspot Inbound Marketing
Google Ads and Facebook Ads
Integrated Marketing Communications
1.Business Foundations Specialization
You can find the course on Coursera and win a certificate after finishing the specialization, develop basic literacy in the language of business, and have a fundamental understanding of marketing, finance, accounting, and operations.
There are 6 Courses in this Specialization.
There is no doubt these courses are of high quality. They are provided by Wharton Business School and enjoy good ratings and reviews.
You will learn these key principles in Professor Barbara's marketing course: branding, customer centricity, and go-to-market strategies.
You will know some marketing terms such as STP (Segmentation, Targeting, and Positioning).
You are also suggested reading the book Global Brand Power: Leveraging Branding for Long-Term Growth by professor Barbara.
2. Advertising
Advertising and Society taught by Professor William M. O'Barr in Duke University talks about the relation of advertising to society, culture, history, and the economy.
From this course, you will learn the origins of advertising, the creation and interpretation of ads,  the depiction of race, class, gender, and sexuality in advertising, advertising and ethics, and the future of advertising.
There is a project website made for the course, take full advantage of it.
http://www.adtextonline.org/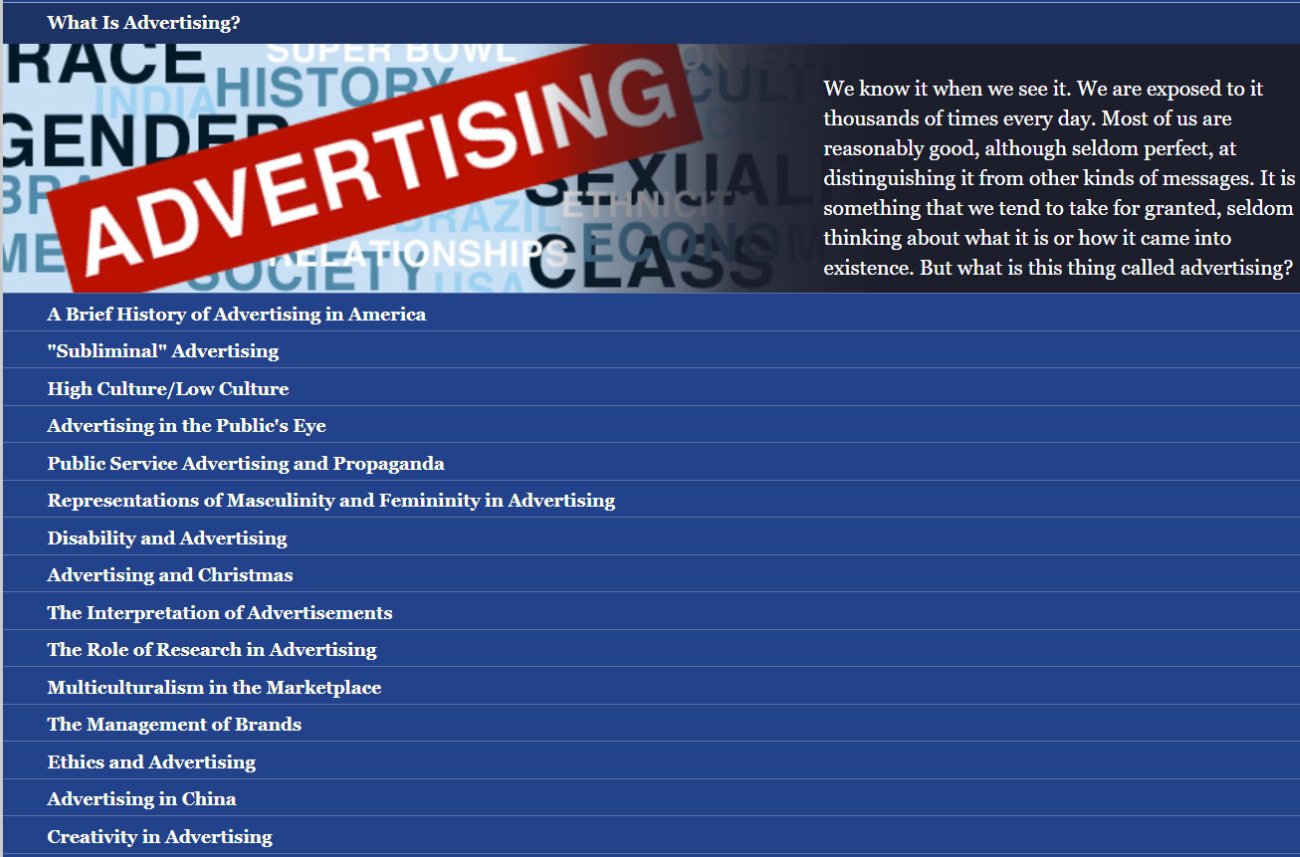 Generally, you will learn advertising as a subject, covering academic study as well as social implications.
3. Digital Marketing Strategy
You can also geta digital marketing certificate after completing the Digital Marketing Specialization on Coursera.
According to the course description, this Specialization explores several aspects of the new digital marketing environment, including topics such as digital marketing analytics, search engine optimization, social media marketing, and 3D Printing.
"Technologies may come and go, tactics may change, tools can be developed, modified, or abandoned, but the question, what do you want to say to whom via what channels for what purpose? Should always be the core of any strategic communication initiatives."——Professor Mike Yao
I wrote a post on digital marketing strategy study notes, which is good for further reading.
4.Integrated Marketing Communications
You will learn a lot about IMC from the course Integrated Marketing Communications: Advertising, Public Relations, Digital Marketing, and more by IE Business School professor Eda Sayin.
The best part about this course is that it is from a marketing firm's perspective to talk about what IMC is and how to do IMC.
What you will learn through this course:
Understand the most important issues when planning and evaluating marketing communications strategies and executions.
Combine the appropriate theories and models with practical information to make better marketing communications decisions.
Use integrated marketing communications (IMC) in the process of creating valuable brands and winning your consumers.
Integrated Advertising, Promotion, and Marketing Communications by Kenneth E. Clow and Donald E. Baack is a must-read for IMC. This course is highly consistent with the book.
Steps of Effective Communication, learn more with the course study note.
Target audience
Objective
3 questions (what to say, how to say, who should say)
Communication channel
Budget
Measure the outcome
5.Hubspot Inbound Marketing
Hubspot Academy is highly recommended to and by digital marketers and its inbound marketing certification is useful to show your skill.
You will learn marketing techniques that range from marketing fundamentals,  content marketing, blogging, social marketing and conversion rate optimization (CRO), and lead generation.
Take a quick look at the Hubspot Inbound Marketing study note on my blog. Level up your digital marketing skills with free, online training from HubSpot Academy.
6. Search Engine Optimization (SEO)
There are tons of learning material on SEO, it is better to focus on one or two at first. Once you know how SEO works, then start your next learning journey.
Coursera offers a Search Engine Optimization (SEO) Specialization course. It is a good fit for the starter level and middle level.
What can you expect from an SEO job?
What does an SEO manager do?
What is a day in the Life of an SEO professional?
Any tips for finding an SEO job?
You will find the answers after you learn the Getting Started & Introduction to SEO lessons.
Search Engine Optimization (SEO) Specialization
Introduction to Search Engine Optimization
Search Engine Optimization Fundamentals
Optimizing a Website for Search
Advanced Content and Social Tactics to Optimize SEO
Advanced Search Engine Optimization Strategies
Website Optimization Client Report Project
You will have a rich understanding of search engine history and how SEO works and how to execute SEO strategies. Hopefully, you can make your own SEO project.
Moz Academy is also a good place for SEO training and makes it free during the early period of COVID-19. But you can still get the free resources on Moz blog, especially Whiteboard Friday.
Learn more SEO tools, SEO strategy, SEO training at SEO: All in One post.
7. Google Ads and Facebook Ads
With the development of technology and increasing popularity of digital platforms, digital advertising has grown to become one of the most important forms of advertising.
Google and Facebook dominate the global digital advertising market. The two landlords, control 60% of worldwide digital-ad real estate according to The Economist.
It is a must-have skill to learn Google ads and Facebook ads for digital marketers. And they also offer free content for learners.
8. Next Steps
Some online marketing platforms you can take advantage of
If you prefer reading books, then do not miss out on the marketing books collection.
Happy Learning & Good Luck!